4, 2013 6:43 AM PDT Loading… Gouhier-Guibbaud/ABACA/startraksphoto.com Kate Middleton really is back on the royal grind! The 31-year-old duchess is a patron of SportsAid , a charity that helps British athletes to reach their potential, and on Oct. 18, she'll be attending the organization's athlete workshop at the Copper Box in London's Queen Elizabeth Olympic Park. Per Kensington Palace, this will be Kate's first official visit with SportsAid athletes and their parents since she became a patron of the organization in April. During the athlete workshop, the new mom will watch young athletes playing a variety of sports, including wheelchair basketball, football (soccer) adapted for those with Cerebral palsy, volleyball, fencing and badminton. NEWS: Kate and Will moving into royal home very soon! Kate will join the athletes and their parents for educational workshops on nutrition as well as media and social media training. She'll also listen as the young athletes get some general guidance from Olympians and Paralympians Katherine Grainger, Ade Adepitan and Karen Pickering. Since SportsAid was founded in 1976, it has helped aspiring athletes by covering essential costs like training, travel, equipment and competition fees. According to the organization's website , two-thirds of the British team at the London 2012 Olympic and Paralympic Games were helped by SportsAid at some point in their careers.
Kate Middleton in Hospital to Have Royal Baby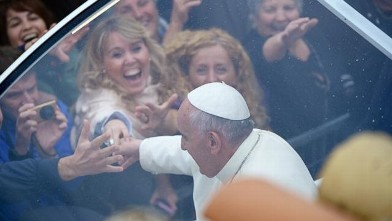 The reigning monarch, Queen Elizabeth II, was only eligible to rule because her father had no male children. Elizabeth has been on the throne 61 years. This baby will be the queen's third great-grandchild. Kate is expected to give birth in the Lindo Wing of St. Mary's Hospital in Paddington, where Diana had William and Harry. The formal birth announcement will come after the queen, royal family and Middletons have heard the good news, royal sources say. Sign The Royal Baby Guestbook The announcement will follow the royal tradition of posting a paper announcement signed by the doctors on an easel outside Buckingham Palace. The announcement is expected to include the baby's gender, weight and time of birth. This old-fashioned announcement will be accompanied by a few more modern methods. The palace is also expected to announce the birth through Twitter and their website. Prince William was the first royal heir to be born in a hospital instead of in the palace. The first sighting of him and Prince Harry was when their parents exited the hospital with the new princes in tow. William and Kate are expected to do the same with their new arrival.
Is this the ideal woman? Artist combines Jennifer Aniston's legs, Gwen Stefani's abs and Kate Middleton's smile to create the perfect celebrity
She was at Marlborough, he was at Eton and they'd met when they were at Sixth Form through some mutual friends," she revealed. Kate Middleton at her graduation from St Andrews in 2005 (WENN) "Through mutal friends Kate met William and that really put a new light on the situation because before then I'd thought they'd met at St Andrews, but they hadn't, they'd met at school." She went on: "Then I'd discovered the very stunning revelation that she'd changed her university choice, she was meant to go to Edinburgh to study the history of art and she's changed to go to St Andrews when it was made public Prince William was going to go there to study the same course." But did Kate change her mind just to pursue the future king? Katie admitted it would be inevitable that William, who at the time was the most eligible bachelor on the planet, would leave an impression on the teenage Kate. "I don't know what an impression he'd left," she said, "I can only imagine that as a 17 year-old school girl, that she must have had some sort of feeling towards him. You couldn't be that young and impressionable and not be charmed by Prince William." But admitting we'll probably never know the reason behind Kate's change of heart she went on: "The only person who knows why she changed her mind was Kate, but we know that she changed her mind and we know that she changed her mind having met William. "So was the seed sown? Was there something planted that perhaps incentivised her to change her mind and change her university?" Kate and William kiss at their 2011 Royal Wedding (Splash News/SteveFinn) Claiming the decision was out of character for the sensible Kate, she revealed those who knew her the best had been surprised by it. "The teachers I spoke to for the book and the friends I spoke to all said that it was very out of character. Usually Kate made her mind up and stuck to her decision, it was very rare for her to have a U-turn or a change of heart," she added. Well whatever made Kate change her mind, it was clearly the right decision as not only did she fall in love with William the couple stayed together for over a decade and finally got married in 2011, welcoming son George this year. Katie Nicholl is a leading royal commentator and best selling author of The Making of a Royal Romance.
Did Kate Middleton Switch Universities After Falling For Prince William? [VIDEO]
Inspired by a poll on Hollyscoop.com that looked at Hollywood's 'hottest bodies' according to readers, the resultant avatar is made up of Jennifer Aniston's arms and legs, Sofia Vergara's hair and curves and Gwen Stefani's abs. The face of the 'ideal' female celebrity would apparently feature Megan Fox's eyebrows, Kate Middleton's smile and Scarlett Johansson's nose. Winning combination: According to a poll on Hollyscoop.com, the perfect female celebrity is made up of features like Jennifer Aniston's arms and legs, Sofia Vergara's hair and curves and Gwen Stefani's abs One of the Hollywood stars who features most heavily in the avatar is Sofia Vergara, who lends both her brunette waves and her womanly curves to the creation. And Jennifer Anistons toned limbs are apparently the best in show business. Steaming up the screen! Now Chrissy Teigen strips off to share a raunchy nude shower romp with husband John Legend in his new music video According to the round-up of top celebrity bodies, Jennifer Love Hewitt's breasts are the most coveted. To complete her perfect body, the avatar is gifted with Gwen Stefani's rock hard abs, which the singer is never shy of showing off. Number one woman: Sofia Vergara features heavily in Hollywood's hypothetical perfect celebrity, lending her brunette waves and womanly curves to the avatar Chiseled body: Jennifer Aniston's arms and legs were found to be the most coveted in Hollywood (left), and the avatar's perfect physique was completed with Gwen Stefani's rock hard abs Not only does the avatar have the perfect body, but her face is a compilation of celebrities' best features – including Megan Fox's thick, dark eyebrows. Her chiseled jawline belongs to none other than Victoria Beckham, and her light blue eyes are taken from New Girl star Zooey Deschanel. Kate Middleton's warm smile and Scarlett Johansson's dainty nose provide the finishing touches to the most perfect-looking celebrity. [caption About face: The avatar has a mixture of Scarlett Johansson's dainty nose (left) and Victoria Beckham's sharp jawline (right) Sex appeal: Megan Fox's lucious dark eyebrows (right) and Jennifer Love Hewitt's breasts (right) help bring the avatar to a level of perfection While the avatar may be a fusion Hollywood's most perfect traits, some readers are skeptical about its overall appearance. 'Neck is awful, where did you get that, from a monkey?' wrote one commenter.