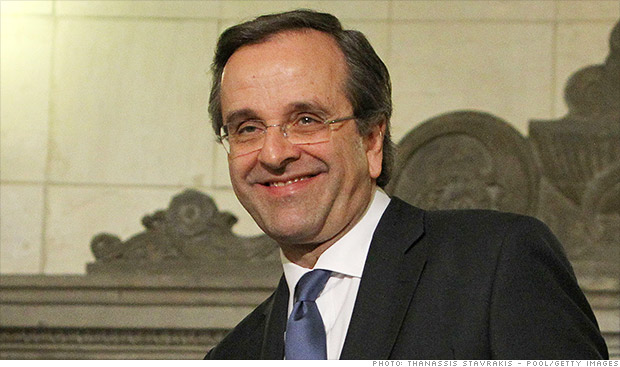 By Mark Thompson @MarkThompsonCNN October 3, 2013: 8:27 AM ET Greek Prime Minister Antonis Samaras has stuck to the task of painful economic reforms. LONDON (CNNMoney) Investors are scouring Europe for ways to make money from its tentative recovery, and one U.S. firm thinks it has found the answer — buy Greek government bonds. Japonica Partners said it believed Greek debt was "massively undervalued" and should be rated several notches above the junk status assigned by the big credit rating agencies. Greece has been shut out of international bond markets since 2010, when its government borrowing spiraled out of control. It has been rescued twice by the European Union and International Monetary Fund and was forced to restructure its debt in March 2012, imposing losses of more than 100 billion euros on private bondholders. Related: Europe's recovery is weak, warns ECB But hedge funds — such as Dan Loeb's Third Point — and other niche investors who bought into Greek debt since the restructuring have made a killing. Yields on Greek 10-year debt in the secondary market have plunged from around 44% in March 2012 to 9%. Japonica's statement was greeted with derision by some investors Thursday, but the firm that made its name restructuring bankrupt Allegheny International in the early 1990s believes it has spotted an opportunity others may have missed. It claims to have become one of the larger, if not the largest, holder of Greek government bonds, and has hired a former senior executive from Norway's oil fund — one of the world's biggest investors — to help manage the portfolio. Related: Investors embrace European stocks "Greece is one of history's most extraordinary sovereign rejuvenations hidden in plain sight by pervasive systemic misperceptions," Japonica said, adding it expected yields should break below 5% in 2014. It's a bold prediction but Japonica may have a point. Greece's headline economic data and social crisis remain as depressing as ever, and it may yet need another 10 billion euros in support. Still, the government is on track to deliver a primary budget surplus — stripping out the cost of servicing its massive debt this year — and hopes to return to the bond market in the first half of 2014.
Europe's cheap stocks set for a long catch-up rally
After lagging for four of the past five years, value stocks – now touted by JPMorgan, Societe Generale, Nomura and Natixis, among others – have a lot of catching up to do. On a stock price to earnings basis, the gap between value stocks and growth shares is among the widest seen in the past decade, according to Thomson Reuters Datastream. "Finally, you have some areas of the market that are becoming investable again – banks, peripherals. They have massively underperformed for three or four years because of economic activity in Europe, political uncertainty, etc. The catch-up could take a few years," said Emmanuel Cau, equity strategist at JPMorgan. Top weights in the MSCI Europe Value Index include bank HSBC , and energy giants BP, Royal Dutch Shell and Total. While the STOXX Europe 600 trades at 12.6 times next year's expected earnings, according to StarMine, HSBC trades at 10.4 times, BP at 7.7 times, with Shell and Total both at 8.2 times. The amount of money invested in European large-cap value equities was 24 billion euros ($32.49 billion) by the end of August, half as much as five years ago, Morningstar data shows. "The common theme is catch-up by lagging assets. That's a late-cycle theme," said Christopher Potts, head of economics and strategy at Cheuvreux. "We're not going to do it in six months. If you're talking about the recovery of value in Europe, it's a five-year idea. It took five years to kill that view and it's going to take years for it to come back." In 2011, the only other time in the past decade when the price/earnings gap between growth and value was as wide as it is now, the broad market retreat started around three months after that gap began to close. That could be an indicator of when the broader market rally may run out of steam this time although not necessarily.