The market is known for its jewelry, antiques, spices, carpets, and ceramics, but the bazaar is also home to a variety of delicious food finds. It dates back to 1461 and has grown since its opening to now house many cafes and restaurants. Many of the vendors selling food offer authentic Turkish dishes, like Kara Mehmet Kebap Salonu, a hole-in-the-wall restaurant selling a variety of kebabs, including kidney and liver. Located off the beaten path of the bustling marketplace, this restaurant is deep inside the open-air courtyard, which is filled with smaller and calmer shops. 10. Mercato Centrale, Florence, Italy Located in the heart of the Tuscan capital, Mercato Centrale in Florence is home to vendors selling a wide variety of produce and prepared foods. Most foods reflect the Tuscan cuisine of the area, like ribollita, a thick soup made with bread and vegetables, and foods using mushrooms, like truffle-infused olive oil. Vendors sell fruits and vegetables, seafood, poultry, meats, and fresh homemade pastas to guests in the constantly bustling indoor market, located in the heart of the city. The market is also home to small restaurants selling Tuscan dishes. One of the best spots to grab a bite is Da Nerbone, and their specialty panino con bollito (a boiled beef sandwich with the bread dipped in the cooking broth) is known throughout Florence. 11. Mercado Municipal, Sao Paulo Opened in 1933, Mercado Municipal in Sao Paulo is both an architectural marvel and home to various vendors selling produce, poultry, seafood, pastas, sweets, and unique spices from around the world. The building features vast domes and stained glass, an example of industrial architecture. The market, which employs 1,500 people and handles more than 450 tons of food per day, is home to both vendors and small restaurants selling local items. Favorites at the market include the selection of tropical fruits and enormous mortadella (bologna) sandwiches.
Sell your oven. Empty your cupboards. There's no need for a mixer or food processor. Keep the fridge for drinks, and maybe the blender. Eating has never been easier. The trick? Bars, bars and more bars. Vegan, chocolate, gluten-free, low-glycemic, raw, sugar-free, nutty, crunchy, gooey, for kids, for weightlifters, familiar old granola bars. Packed with protein, fiber, super-fruits even some with sugar and fat. Bars for pregnant women, and the YaffBar that's for you and your mutt to share. Larabar's Alt gets its protein from peas; another company harvests crickets for protein.
Fast-food giants want pizza the action in Africa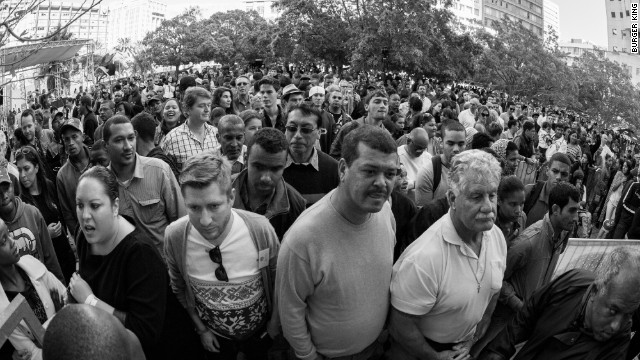 Yes, the hamburgerization of the world is a shame, but face it – the busiest and biggest McDonald's in the world are in Paris, Rome and Moscow. American fast food has gone global. You'll find KFC and Subway in every language – it isn't exciting (and costs more than at home), but at least you know exactly what you're getting, and it's fast. They're also kid-friendly and satisfy the need for a cheap salad bar and a tall orange juice. They've grabbed prime bits of real estate in every big European city, providing a cheap seat (with no cover charge) and an opportunity to savor a low-class paper cup of coffee while enjoying high-class people-watching. Many offer free Wi-Fi as well. Each country has its equivalent of the hamburger stand; I saw a McCheaper in Switzerland. You might say to yourself, "I didn't travel all the way to Venice to eat in a McDonalds," but consider fast food as comfort food – something fun halfway through your trip. Street food: Every country has a cheap specialty that's sold at take-out stands or shops, where you can grab a filling bite on the go – French creperies, Greek souvlaki stands, Danish polse (sausage) vendors, Italian pizza rustica takeout shops, Dutch herring carts, British fish-and-chip shops, and Turkish-style kebab and falafel kiosks. Of all of these options, the ubiquitous kebab stand is my favorite. The best ones have a busy energy, and a single large kebab wrapped in wonderful pita bread can feed two hungry travelers for $5. Don't miss ayran – a healthy yogurt drink popular with Turks – which goes well with your kebab. In general, if there's a long line at a particular stand, you can bet that customers appreciate the value that vendor provides.
Stretch your food budget
In May, Burger King opened for business in South Africa and last year Domino's — the U.S. pizza chain — opened its first African store in Nigeria, the continent's most populous nation. With two stores already, Domino's is planning to launch three more African branches by the end of this year. A taste of Nigerian street food Burger King arrives in South Africa Procter & Gamble see African opportunity Love for meat unites South Africans? To cater to local tastes, the pizza chain launched a Chicken Jollof pizza — a rice-based dish popular to West Africa — and a Suya special, consisting of spicy marinated meat. Charbel Antoun, partner at Eat N Go, which helped launch Domino's in Nigeria, said that adapting the menu to the local culture and food was crucial to the brand's success. He added: "To compete in the market we have very competitive prices. Ninety-five percent of our customers are Nigerian … and these are the consumers we're looking to attract." Read this: African firm invests billions in U.S. Price competitive However, the cost of Western fast food brands in many parts of Africa relative to wages remains high, excluding many people, who simply cannot afford it. While sub-Saharan Africa is home to some of the world's fastest-growing economies, millions of people are still languishing in extreme poverty. For example, the cost of a KFC meal in Malawi — including a burger, fries and drink — is more than $9 but with 50% of the country's population below the World Bank's poverty line , fast food is an unaffordable luxury for most.